This page was updated on May 1, 2017.
PLEASE READ THIS POST CAREFULLY AND THOROUGHLY

.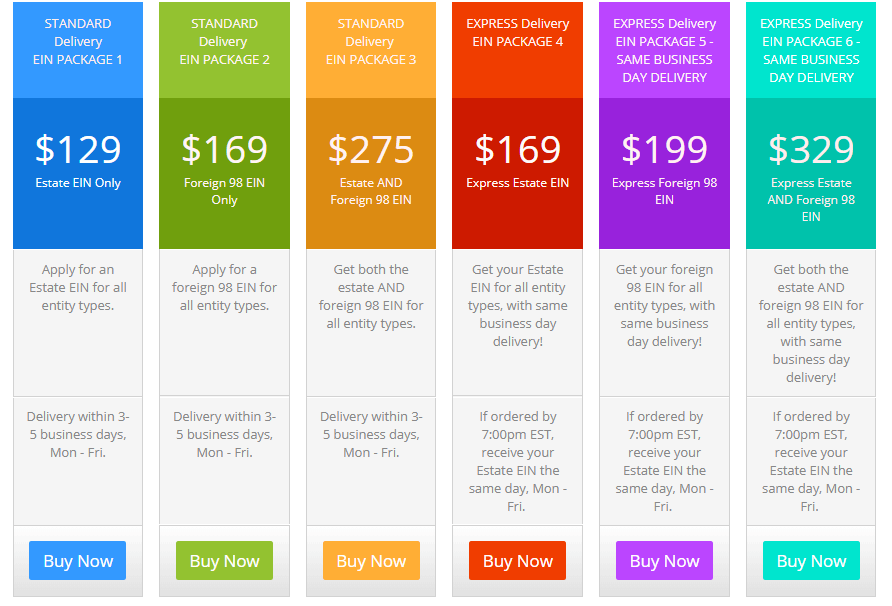 If you're looking for assistance on creating your estate EIN and/or foreign 98 EIN, you've come to the right website for that service. Our team at A.W.A.R.E are experts and can help you get your EIN to start a business, comply with the IRS, and open a U.S. bank account. 
DISCLAIMER:We are NOT lawyers or attorneys. All the information we provide on this website is intended for educational purposes ONLY. We do not and will not give anyone legal advice. If you seek or inquire legal advice, find yourself an attorney or lawyer who is licensed to do so.
We make the entire process of getting your EIN easy and hassle-free. With our easy to follow, 3 step process, you can have your EIN assigned to you within 3-5 business days, or the same business day, ready to use immediately! Continue reading to learn more about EIN's and how our process works. 
REASONS TO APPLY FOR AN EIN 
You need an EIN number if you decide to do the following:
Start A New Business – If you plan to operate a business in the U.S., you will need an EIN. All LLCs, partnerships, corporations, and even non-profit/tax-exempt organizations require to have an EIN to comply with the IRS and to comply properly. 
Non-Profit/Tax Exempt – All non-profit organizations are tax exempt and are not responsible for filing taxes. Our team of experts can help you obtain an EIN for your not for profit organization. We have a specific EIN form for this type of legal entity. 
Hiring Employees, Including Household Employees – Whether you have household employees or are hiring employees for agriculture, your office, or any other field–you are required to have an EIN. 
Formed or Created a Trust, Pension Plan, Corporation, Partnership, LLC – All trusts, pension plans, corporations, partnerships, Limited Liabity Corporations (LLC), and others, are required to have an EIN to operate properly. 
Open A U.S. Bank Account or Establish A Line of Credit – All U.S. banks require you to have an EIN to open up a bank account. Plus, if you're looking to establish lines of credit for your business, an EIN is needed. 
Change The Legal Character or Ownership of your Organization (for example, you incorporate a sole proprietorship or form a partnership) – Once again, this type of legal entity is required to have an EIN to remain in good standing. 
Represent An Estate That Operates a Business After the Owner's Death – An estate EIN for deceased individual is required for the will or trust of the EIN. 
Comply With The IRS – If you plan on selling products, goods or services to the U.S. market, the IRS mandates that you have an EIN. 
OUR PROCESS EXPLAINED 
From the time you order to the end of your order–our EIN service is a simple 4 step process. 
Step 1: Order + Checkout
Choose your EIN package and checkout using PayPal or pay with our credit card option. 
After you place your order, you'll receive an order confirmation email with your order details. In the confirmation email, you'll find a link to our custom thank you page with the link to our service forms. You'll be required to fill out all applicable forms, depending on your order. For example, if you just ordered our EIN package, you are required to just fill out the applicable EIN form that suits the package you just ordered. If you ordered more than 1 EIN package,  Of you rdered 'cpupled' or muliplte then each person whom's requesting an EIN has to fill out Nand submit the EIN form (digitally). 
Step 2: Fill Out Application
After your payment successfully goes through, PayPal will automatically redirect you to our EIN service application. The application is very basic, simple and easy to fill out, no complicated questions are asked.
Step 3: Review And Confirm 
Upon receiving your application, one of our team members will look over it and organize all the information you provided to us to successfully create your EIN.
To avoid any mistakes and allow the customer to make any corrections as needed, we will ask the customer to confirm that the obtained information is correct before proceeding further. 
Step 4: Order Processing+ EIN Creation
With the customer's confirmed information, we will go ahead and create your EIN trust(s) with the IRS and have all the details regarding your created EIN emailed to you within 5 business days, unless you choose package 4, which is 24 Hour Express.. 
CLICK ON ANY ONE OF OUR PACKAGES BELOW TO VIEW THE PACKAGE DETAILS AND TO ORDER IT. 
[supsystic-price-table id=9]
A Look Into Our Packages 
STANDARD EIN PACKAGES 
[supsystic-price-table id=13]
PACKAGE 1 – ESTATE EIN $129
Our first package covers the set up of your Estate EIN, which can you can use for banking purposes. Using the customer's required information, our team fills out the SS-4 form on the IRS website and receives your assigned Estate EIN number, on your behalf. All the details regarding your newly created Estate trust will be sent to the customer via email within 5 business days, along with their letter of confirmation. Please keep the sent details regarding your EIN safe in your record. The letter of confirmation will be needed as proof of created Estate EIN. 
Estate EIN Requirements are as follows (which you will be asked to provide in our service form after you pay). 
Your Full Name (if you have a record with the IRS, please provide us with THAT name. Providing us with another name that the IRS does not have on record for you, will cause a delay and inconvenience in the process and we won't be able to create your estate EIN number, per the IRS system. Mind you, we fill out a form online to obtain your estate EIN number) 
Your Social Security Number – Your 9 digit social security number is required for the estate EIN. 
Your Home Address (preferably in U.S) – If you reside in the United States of America, your home address 
Your Best Email Address – Must be your primary email or an email address you use daily, as this is where our team will stay in contact with you. 
PACKAGE 2 – FOREIGN GRANTOR 98 EIN $169
Package 2 covers the creation of your foreign grantor trust. Your social security number is NOT required to obtain your 98 EIN. 
Our team fills out the SS-4 form on your behalf and works directly with the IRS to get you your number. 
FOREIGN GRANTOR 98 EIN Requirements are as follows (which you will be asked to provide in our service form after you donate). 
Your Full Name (such as JOHN HENRY DOE) 
U.S. Address – Your U.S. address is used for mailing purposes only, so within 2 weeks of creating your foreign trust, you will receive a letter from IRS regarding the details of your created 98 EIN. 
Your Foreign Address  – If you have one, great! Please provide that in your application. If not, no worries. We will provide you with one. Just choose which foreign country you would prefer your trust be formed in. 
Your Phone Number – Cell phone or house number works well. 
Your Birth Date (month, date and year) 
Your Email Address (to email you your number) 
No Social Security Number Required For 98 Foreign Trust
Although the IRS will ask if you have a social security number that you can provide them when creating your 98 foreign trust, you must NOT provide them with any social security number otherwise the process of obtaining your 98 EIN trust number will not work. Your response to them when they ask you if you have a SSN, is "I don't have one of those."  All they will say is yes and proceed to ask you more questions to create your 98 EIN trust. 
1 EIN Number Per Entity + Choosing Names
The IRS allows ONE 98 EIN number per entity. If you already applied for a 98 EIN number under a specific name such as JOHN H DOE, the IRS will not allow another foreign trust be created under that name UNLESS you choose to name your foreign trust under a business name that was not used to before to setup a foreign trust. 
No Special Characters Permitted In Business Name
The IRS does not allow any special characters in your business names.
And of course, if you order the third package (which is for BOTH EIN numbers), you must provide us with all the information to obtain both EIN numbers. 
PACKAGE 3 – ESTATE & FOREIGN 98 EINs $275
This package is perfect if you're applying for BOTH the estate and foreign 98 EIN for your business, company, corporation, LLC, individual, trust, or for any other entity type. Delivery time frame is 5 business days or less. 
EXPRESS EIN PACKAGES 
[supsystic-price-table id=12]
Our express EIN packages are perfect if you need your EIN fast and can't wait 3-5 business days. View our 3 express EIN packages below and select the one that's right for you. 
PACKAGE 4 – EXPRESS ESTATE EIN $169
Can't wait 3-5 business days for estate EIN? For just $169, you can have your estate EIN emailed to you within 1 hour after your application has gone through approval. 
PACKAGE 5 – EXPRESS FOREIGN 98 EIN $199
Get your foreign 98 EIN emailed to you within 1 to 2 hours, and avoid waiting 5 business days for it. Your application must be approved before your application process begins. 
PACKAGE 6 – EXPRESS ESTATE & FOREIGN 98 EIN $329
If you want both your estate and foreign 98 EIN delivered to you in 3 to 5 business days, then this package is for you. Your application must be approved before your application process begins. 
Why Clients Choose Us?
Best LOW Price Around
First and foremost, we offer the best LOW prices around! As you will see in the comparisons below, A.W.A.R.E offers low prices possible. Take a look at the price comparisons below and see why A.W.A.R.E are the best.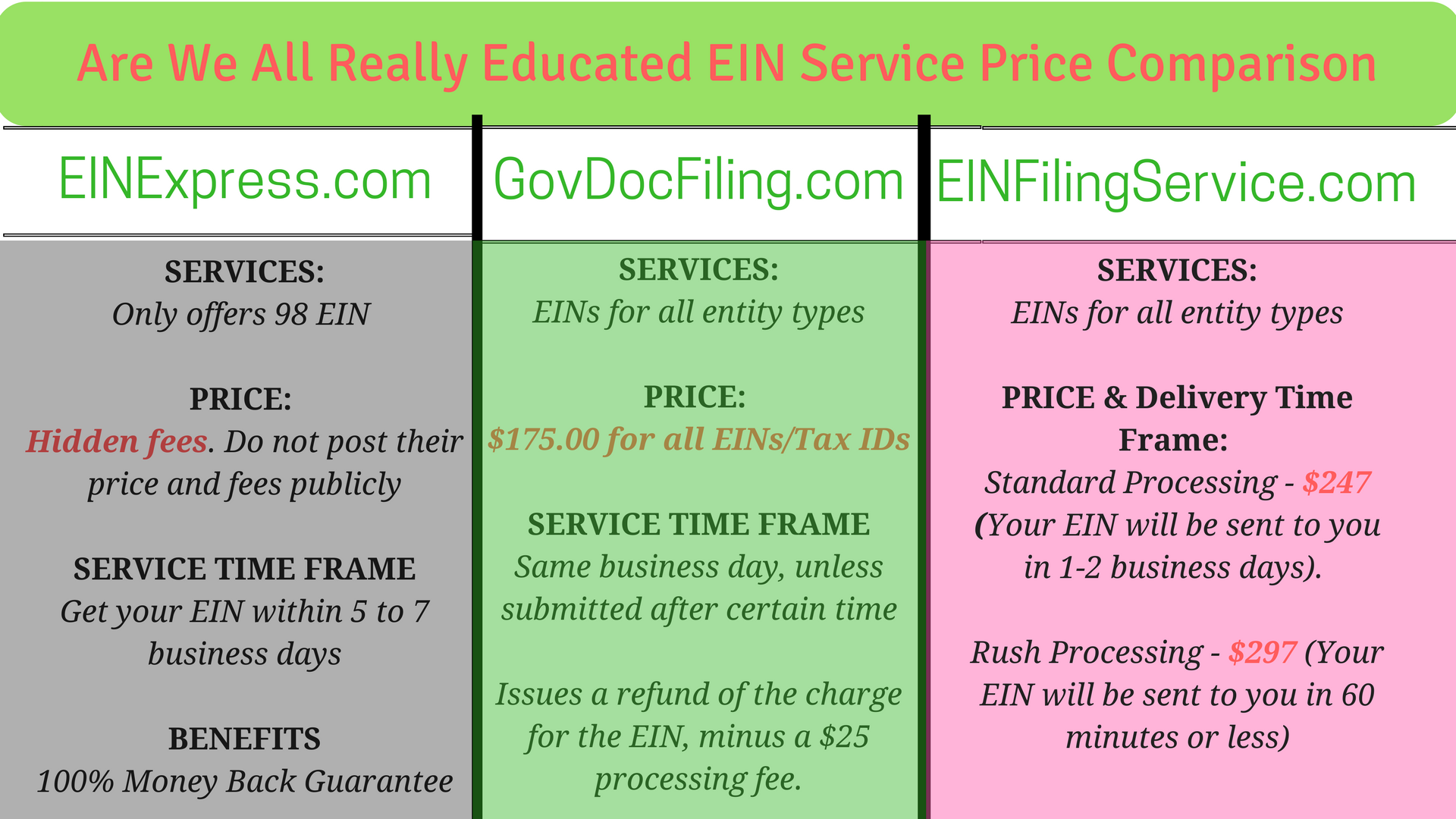 PROFESSIONAL EXPERTS TO ESTABLISH YOUR TRUST PROPERLY
We are a team of professional experts in the field of EIN filing. Our team knows how to work answer any questions accordingly with the IRS to successfully create your EIN. Whether you're looking to get an EIN for your estate (also referred to as legal name), your business formed outside the U.S. (foreign grantor trust) or for your non-profit organization – our team can help establish you and your business successfully, so your EIN becomes properly usable for your personal business needs. 
We Work Fast
Our team works fast to get your EIN delivered to you. Within 5 business days or sooner, you can expect to have your EIN emailed to you. 
Immediately Receive Your EIN
With us, you won't have to wait 2-4 weeks to receive a letter from the IRS regarding the details about your created trust just to know what your EIN number is. As soon as our team processes your order with the IRS, all the details about your EIN are emailed to you within 3 to 5 business days. 
Please note: While your EIN number can be used immediately for most of your business needs, such as:
Opening a bank account

Applying for business licenses, and… 

Filing tax returns by mail
You will have to wait up to two weeks before your EIN becomes part of the IRS's permanent records. Because of this, you must wait until this occurs before you can: 
File an electronic return

Make an electronic payment

Pass an IRS Taxpayer Identification Number (TIN) matching program. 
Great Customer Support Team
Our support team are professional and are here to answer any questions you may have. We respond fast, and answer your emails accordingly. 
Plus, you email us anytime, any day of the week, and you will receive a response fast! You won't have to wait no more than 3 days or weeks to get a response back from one ouf our dedicated support members. 
Easy, Simple & Hassle-Free.
We make the ENTIRE process of EIN filing easy, stress and hassle-free for both parties.  You won't have to deal with the IRS not even ONCE during the entire process. By choosing us for your EIN filing, you save time trying to figure out how to properly fill out IRS forms and prevent mistakes. 
We Do All The Work So You Don't Have To
We made the application as simple, basic and clear so you don't have to spend hours or stress over the complicated questions. NONE here! We fill out the SS-4 form for YOU with your information. You don't even have to worry about dealing or speaking with the IRS yourself. We handle all that for you. 
Safe & Secure, Loyalty 
Rest assure that your personal and private information will ALWAYS be safe and secure with us. As stated in our Terms Of Service and Privacy Policy, NONE of your information will NEVER EVER be shared with ANYONE. Our website and donation process are safe and secure. We do not store any of your private information, either. 
And last but certainly NOT least… 
100% Money Back Guarantee
We are a dedicated service provider who are staunchly to bring customer satisfaction and our excellence. We want you to know that you are choosing our service(s) 100% RISK-FREE or your money back!
So, if you do not receive your EIN or by any chance we cannot successfully process your EIN order, we will refund you your donation back into your PayPal account within 30 days. 
[supsystic-price-table id=9]
Please be sure you have access to the email address you provide us. 
TO MAKE A DONATION FOR THE ABOVE SERVICES, PLEASE CHECKOUT ON OUR SHOP HERE.
Add the EIN package to cart and checkout using Credit Card (Stripe) or PayPal. 
A.W.A.R.E has added another options as forms of donations. Cash App and credit card authorization form. 
See the instructions at checkout for these options. 
Please Note: Using the PayPal button on our sidebar or any button other than the button above to donate for your service order will not be fulfilled, as the donation button above is JUST for the purpose of donating for our EIN services.